WolfWise Blazers A10 Pop up Privacy Tent Green
Product image 1
Product image 2
Product image 3
Product image 4
Product image 5
Product image 6
With its new pop-up design, Wolfwise Privacy Tent enclosures take up significantly less space and fold up to the thickness of a pizza. Weighing just a few pounds, it can easily be stored with your other gears.


Pop-up Design & Portable
Spacious & Well-Ventilated
Anti-tear 190T Polyester Structure
Versatile Design & Stable on Ground
UPF 30+ & Water Repellant
FAQ
1. Does this tent stand up on its own without being staked in the ground?
Yes, it will stand on its own. But if in strong wind weather, maybe you will need stakes to help hold it down.
2. Does this have a place to hang a portable shower bag?
You can hang the shower bag outside and let nozzle into the zippered window if you want. It is big enough for the shower hose. By the way, the top roof is mesh, you can also use this part. Hope it helps you.
3. What kind of material is on the top of the tent? screen or the same as the sides or nothing at all? does it keep out the rain?
Some are saying same as sides and some a net mesh. Mine was net mesh. It it's just about six foot tall and I'm six three but used it just fine for a weekend camping with family and friends with a Luggable Loo 5 gallon bucket chemical toilet. The winds were about 25 mph at times. I staked it down with some bigger stakes than what came with it and hooked it up top to my canopy with a friction strap which kept it from blowing over. I'm guessing if using as shower you would hang a shower unit above it and the water would come through the mesh top. It may not be very heavy duty but I'm very happy with it lasting through the storm I used it in. Didn't think it would make it but it did.
4. Can you see through it?
You cannot see through it unless you're body is pressed directly up against the walls and it is a great way to make a private shelter for toilet, changing clothes or just camping.
5. Is this portable to carry while hiking or backpacking?
Yes, Of course. You can take it anywhere you want. Once it is folded up in its case, it only measures about 22.8inch, weighing just 4.3 pounds.
Reviews
Customer Reviews
Excellent portable shower tent for the price.
We bought this to use as a shower when we go camping. We received the item in a timely manner, and gave it a test run before we actually take it out camping. The case is compact so it doesn't take up much space, and it includes instructions and pegs. The inside is roomy for one person and offers privacy as it is not see through. There is a small opening at the back, which can only be unzipped from the inside. On the inside there is a small pocket about the size of a smartphone and a strap running across one side from which a regular size bath towel can be hung without problems. The bottom is open, so as an experienced camper I would suggest getting a small tarp to put underneath it so you don't get your feet muddy.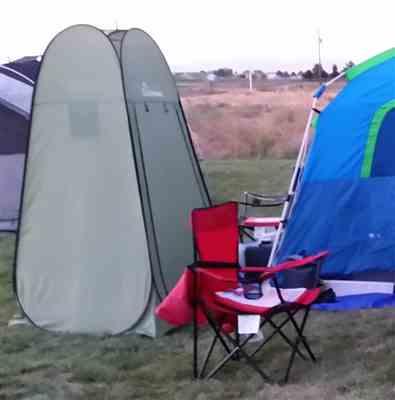 poo tent
just big enough and tall enough to be comfortable
Easy to fold
This tent is awesome! It's a lot bigger than I expected. I'm able to stand up in it (I'm 5'7") and it's roomy enough for a camping *****. It doesn't feel cramped. I was concerned about being able to fold it up to put in its carrying bag, but it comes with simple instructions and I was able to easily fold it and stick it in the bag on the first try, no struggling or cursing required. The bag has straps to carry it backpack-style. It's lightweight. It's awesome! Great purchase! I can't wait to take it on our next camping trip!
Awesome travelling shower tent!!
This thing works perfect for me. I can actually take a shower in the bathroom if my office of needed and it works really great also for camping. There's a window that can be used or there's a mesh top so the water can come from straight above also. I'm 6'2" and I for very comfortably in it. It's great in portability.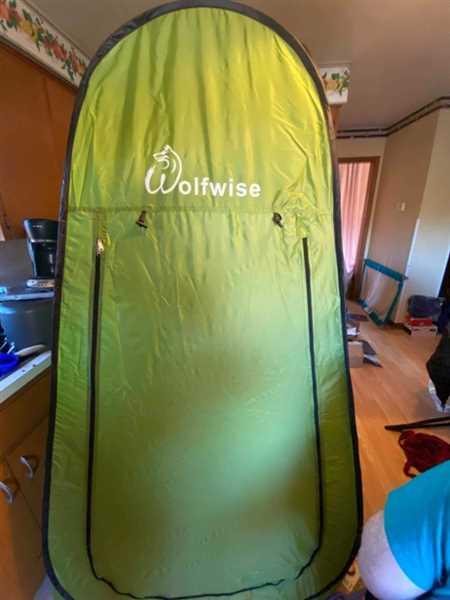 01/05/2020
Elizabeth A. Everson
Easy to set up and put down and so convenient!
I usually have trouble folding pop up stuff but this had the Easy instructions sewn into the tag of the storage bag. It was easy to fold. My husband can stand in it all the way and it's perfectly light weight for when we go camping and all need to change without a bathroom! It is mesh in the top but that's fabulous for it being breathable. It's meant for privacy not bad weather :). Love it!