WolfWise Pinkflame R10 Pop up Privacy Tent
Product image 1
Product image 2
Product image 3
Product image 4
Product image 5
Product image 6
Product image 7
Pops up and folds down in seconds, no assembly required. The pink color of WolfWise pop up shower tent will brighten your eyes. The versatile interior design meets your daily needs in the wild. Ideal for camping, beach, outdoor shooting, children's dance competitions, etc.
Pop-up & Unique Pink Design
UPF 50+ & Water Repellant
Anti-tear 190T Polyester Structure Construction
Privacy Guarantee
Removable Mesh Storage Bag
Versatile Design & Stable on Ground
FAQ
1. 

Can I hang a solar shower in this? How do I hang my shower hose on this portable shower?
Definitely ok. You can put the hose through either of the three side vents.

2. 

I want to buy this for indoor dance competitions. Can it stand up on its own without any pegs?
I also bought this pop up tent for my girl's dance competition. I really love it. Set it up very easily. It actually can stand up on its own. Hope this help you.

3. Is the big mesh storage bag removable? Can it be hanged outside the privacy tent as the picture shows?
Yes, you can hang it at the side of the tent with the top hook. It is very portable and can store a lot of things. Really a special design. I never saw this in other store. Good product. 
Reviews
Customer Reviews
30 second setup and take down
This is our second popup shower. The other one we use for a shower, but with 5 people camping it's nice to have a bathroom that isn't also the shower, so I bought this one. Our girls call it their "princess *****" as it's pink. Our 5 year old loves throwing it and watching it pop open, and with the help of her older sister has it setup in under a minute, portable ***** and all. Setup takes an adult, but once you get the hang of the folding pattern it comes down in under a minute as well, and conveniently folds into its bag (which also has backpack straps). I am 6'1 and can easily stand inside this it's quite tall. Our shower unit has a hanger centered on the top for water, whereas this one does not, so hence this one is our ***** and not shower. This model also has vents you can open (see photo).
Extra Room
It is roomy and exactly what I needed.
Worth every penny not to have squat behind a tree in the dark!
Buy this thing! I know it's pink, but seriously, it's worth it. I bought it to use as a *****/shower tent. There is plenty of room for the camp bucket ***** thing, the shower, and a small shelf for toiletries. The mesh floor keeps everything clean and there are pockets to keep your stuff handy. There are vents to let air in and smells out, places to hang a light at the top, and a nice big zippered door. This is soooo much nicer than doing your business behind a tree. Bonus! It's easier to fold up than a fitted sheet, so that's nice!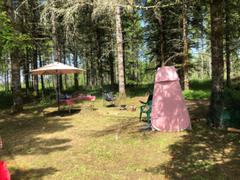 Super Easy to Use
Great product! Perfect for Beach, Camping or anywhere you need privacy. We bought for both Beach use and camping, and use it to change and as an impromptu bathroom! I was really surprised at how such a roomy popup could store so small and it folds up super easy. I like that it has printed instructions on how to fold it right on the storage pouch.
Watch the folding video!
This is indeed easy to set up, but folding is a nightmare unless you do two things - 1: Watch the video on the website of the guy packing it back up. It helps with some details that are hard to follow in the photo instructions. 2. Pay close attention to the way it is packed when you unfold it the first time. Seriously, take photos or have someone take a video. You have to fold it back exactly the same way you unpacked it. I tried to do mine exactly the way the guy in the video does it, with the logo up to start, and it was impossible. After a long wrestling session, I almost gave up. Looking at the way it was trying to bend, I flipped it over, followed the instructions again, and it was put away in under a minute. After fighting with it for 30.... Also, I don't think it would hold a very heavy water bag for a shower. I put a bag with about 2 liters of water on top and it worked ( you have to thread the shower hose in through the vent) but anything much heaver and I'd be concerned it would bend the frame. You would probably want to set it up near a tree or somewhere else you could hang the water bag.