WolfWise AquaBreeze A10 Instant Pop up Beach Tent Blue
Product image 1
Product image 2
Product image 3
Product image 4
Product image 5
Product image 6
Product image 7
Enjoy a day at the beach with the Wolfwise easy pop up beach tent. This 2-3 person sun shelter features anti-UV properties that make it ideal for fishing, picnicking, and beach shade. The baby beach tent offers quick two-second setup, so you can have a shelter ready in almost no time.
Pop-up Design with Unique Sandbags
UPF 50+ & Water Repellant
360 Degree Full Ventilation
Premium 190T Polyester Construction
Portable Compact Size when Folded
Have any problems with folding it back?
Please 
click here
 to see the 
NEWEST
 folding instruction. 
99% success rate!
FAQ

1. Can this pop up tent be set up on grass as well?
It would work on grass too. The tent pegs could be pushed into the ground to secure it. So it should be fine on the grass.
2. Can both doors be zipped up?
Yes, both the doors can be zipped up closely. One end down with extra flap on the ground. The other end zips up and you tie back the ends. If you want privacy, the whole thing can be closed up and you would be protected.
3. Is it difficult to fold the sun tent back into the carrying bag?
Once you figure out how to do it, you can do it better next time. There is an instruction inside the package, which you can take for reference. And if you don't understand it clearly, you can also find a video on YouTube from our official account. By watching the folding steps, you can get the hang of it soon.
4. Does it fit in a suitcase when folded?
It can be folded down to a travel size of 20" L x 20" W x 1.38" H. Easy to fit into the suitcase.
5. Will this tent be easily blown away in windy weather?
No, it won't. It has four pockets where you can put sand inside to make the tent more stable. Also fitted with a tightening string that prevents the sand from flouring out.
Reviews
Customer Reviews
Easy setup, well made, fun play space
E-Learning sucks, sorry probably not what your looking for here in the reviews. But, this tent is awesome! We were planning to take this out on the beach as a portable private cabana. I can't comment on outdoor use though. Instead, we're at home for spring break, like most of the world. Get the kids started, and use this private little play area as a reward. The kids enjoy sitting in here e-learning on their tablets (before spring break). Now they're watching movies in there, it's a nice semiprivate play space. Folding is easy. First I fumbled with it, cussed a little. Then, I crossed the line, broke guy law, and looked at the instructions, they're sewn to the carry pouch. Nice big pictures, at first it seemed like nonsense pictures. Follow it step by step though and it folds up easily. Pops open almost magically. Looks like it would be fine as a spring, summer tent, warm weather outdoor tent. Seems well made, good stitching (the bad ones usually stand out with **** stitching on the seams). I wish they made tents like this (setup & takedown) when I was younger. Would buy again!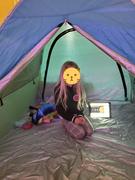 Great for the beach and for kids forts
This is the best beach tent ever. It pops right up and doesn't have no poles. I'm preparing for my family vacation this summer but It's still cold here so my kids decided to sleep in it.
Easy to open, spacious, great features
This tent is awesome! It's simple to open up, spacious enough for my kids to hang out in, and has many options to make it suit any need. I love that both sides open up fully and the screened windows on either side. The attached bags on the outside to hold sand to keep the tent in place on a windy beach are genius and will work well. I can't wait to use this on our trip this summer! I watched a video to figure out how to close it back up. The first time is awkward, but after that it's fairly simple!
11/18/2020
K
United States
Amazing tent
Love this tent! It is high quality, portable and great for taking on the go. Very happy with this purchase.
11/18/2020
K
United States
Amazing tent!
This is exactly what I've been searching for. This tent is convenient, portable, high quality, and provides the perfect amount of shade. It is easy to assemble, transport and pops up easily and ready to go. It's great for family travel. Very pleased with this tent!