WolfWise AquaBreeze A20 Instant Pop up Beach Tent Blue
Product image 1
Product image 2
Product image 3
Product image 4
Product image 5
Product image 6
Product image 7
Wolfwise
easy pop up
beach
tent raises in seconds - no assembly required.
It is lightweight, compact design so that you can carry it
with ease. Be ready for any outdoor activities. Imagine the perfect day at the beach, fully protected with UPF 50+ protection. 
Pop-up Design with Unique Sandbags
UPF 50+ & Water Repellant
360 Degree Full Ventilation
Four Sandbags with Windproof Ropes
Portable Compact Size When Folded
Have any problems with folding it back?
Please 
click here
 to see the 
NEWEST
 folding instruction. 
99% success rate!
FAQ
1. How many people can fit into the

 

sun shelter

 

for protection from the sun?
It is big enough for 2 adults and 2 kids, or 3 adults if your not a tall person.
2. 

What is the dimension of the inside bottom square of the pop up beach tent when it is closed?
The inside dimension is 78.7*51.1 in (200*130 cm) when it is closed.
3. How waterproof is it? Would it keep things dry when we have rainstorm on the beach?
It depends on how heavy it is. If it is a rainstorm, it can't work well. But it would be okay if it is light rain, and you can hide inside trustingly.
4. Can these windows be covered?
Yes, there is a flap on each window that you can roll-up for airflow or leave down to cover the sun.
5. What is the weight of this baby beach tent? Is it convenient to carry out?
It only weighs 4.2 lbs. It is very light and easy to carry everywhere. You will not have difficulty in putting it on your back.
Reviews
Customer Reviews
Fast and easy pop up!
I've been looking for a great tent to take to the beach or park with my family. This one pops up in seconds!! We tried taking a video to show how easy and fast it is to pop up, but my husband was holding the baby and it got kind of windy lol. Still, you can see how fast it is, and how we got it set up. Despite the wind, it stayed put after we put sand in the sand weight bags, and pegs. I need to figure out how to best keep sand out of the tent, but it's otherwise really comfortable. There are window options on either side, and you can have the zip entry on one or both sides for additional airflow too. I wouldn't say that it's exactly easy or intuitive to fold back together, but once you get it by following the instructions, it's fine. Be sure to tuck the top under itself... we kept forgetting that step. Once folded, It folds up and stores flat! It fit my husband, baby, me, and probably would fit another kid and adult as well. Highly recommend!
good for breezy beach days
Look at the size of this tent! It fits me, my son, and all our gear, comfortably. Also, look at how many flaps for wind flow this has. I used it for the first time on a windy day at the beach. Having all of the flaps that can open and shut was great because the wind could blow right through the tent. This tent comes with plastic anchors and also sandbag anchors. I didn't use the sandbag anchors because I was on the grass. However it's great that they were included. I suppose I could have put rocks in them to help keep the tent stable. However, the tent handled the wind well without them. The only downside of one of pop-up tents is that if you have not opened and closed one before, you should practice doing that at home. I had no trouble closing the tent and putting it back in the case. The instructions that came with this specific pop-up tent is clear and easy to follow.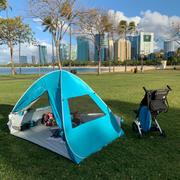 Worth the money
It's definitely light weight so it's easy to carry but keep your things inside on windy days. Also it's not impossible to fold but it's not super easy either
Easy to assemble and fold back!
Very nice, big and spacious tent. I love how easy it is to open and easy to fold it back!!! Can't wait it to take to our beach trips...
Easy to set up, lightweight
We like this tent a lot. Easy to set up, good size for my baby and one adult. Not very easy to break down, but it's a sturdy tent. Like the little windows.