WolfWise Blazers A20 Pop up Privacy Tent Green
You deserve a pop up shower tent that you can trust. Wolfwise easy popup privacy tent offers the space and functional features you need.


Pop-up Design & Portable
UPF 50+ & Water Repellant
Anti-tear 190T Polyester Structure Construction
More Space & Well-Ventilated Design
Versatile Design & Stable on Ground
FAQ
1. Does it have a floor to protect feet from the dirt while showering?
must use the stakes so it won't blow away.. for sure. its very light.
2. Does the floor attach to the pop-up tent?
Yes, this is an updated version. There is a portable bottom mat. If you need it, you can put inside to keep your feet clean. You can also put something on it as a picnic cloth when not in use.
3. Does it have a roof to keep out rain?
Yes. There is a removable rain fly with this camping shower tent. That means you can use it in the rainy weather. And it is easily installed if needed. There are 4 hooks to fix the rain fly.
4. Does the portable shower tent have any side windows?
Yes. There are two zippered windows in the back and the side for ventilation or hose pass-through. Plus, the mesh top provides additional ventilation, allowing heat to escape in hot weather and keeping inside mostly the same temperature as outside.
Reviews
Customer Reviews
Great purchase for our outdoor adventures!
If you're anything like me and are up multiple times a night to ***** but still want enjoy REAL camping with your family, this is a MUST! Purchased this so I could use the restroom every other hour while in the middle of nowhere and this is IDEAL for privacy when you gotta go but its too dark to find a spot. There is a little fabric flap at the very top on the inside for a lantern so you're not in the complete dark. It vents well for hot, summer camping days and is easy to set up and break down and pack away. Great addition to our overlanding gear and I couldn't be happier! Just wish I would have got this sooner!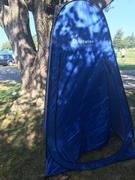 Changing room for camping Also porta ***** for camping Essential answer to privacy
Perfect little changing room or porta ***** to make those bathroom and changing times easier right where your at.
Great pop up tent!
Great pop up tent! We will use this on our next camping trip with our luggable loo. We set it up and it's tall enough and roomy enough for an adult. Should make nighttime bathroom trips much more convenient.