WolfWise SpiltWave R10 Easy Pop up Beach Tent
Product image 1
Product image 2
Product image 3
Product image 4
Product image 5
Product image 6
Product image 7
Enjoy a day at the beach with the Wolfwise pop up beach tent. This 3-4 person sun shelter features anti-UV properties that make it ideal for fishing, picnicking, and beach shade. The portable beach shelter offers quick two-second setup, so you can have a shelter ready in almost no time.
Pop-up Design & Portable
Spacious Space with 360 Degree Ventilation
UPF 50+ & Water Repellant
Anti-tear 190T Polyester Construction
Cool & Stable Design 
FAQ
1. Can you sit in this comfortably in a regular camp chair? Is it tall enough?
It's definitely not tall enough for adults to sit in a regular camping chair inside the tent. A beach chair that sits low to the ground (3-4 inches off the ground) would fit.
2. Is the beach tent easy to set up?
Super easy to set up. It pops right open. Without any tools, even a child can do it.
3. How wind resistant is it? Do the windows and back open enough to allow wind to pass through without taking the entire shelter away?
It is very wind-resistant. Works pretty well in wind with some stakes to anchor it down. The back door and the side windows open for ventilation and allow air to pass through the tent.
4. Can this beach shelter protect against ultraviolet light?
Yes, surely. The silver-coated surface reflects and absorbs sunlight to protect the user from harmful lights.
5. Is there an optional fourth wall for when it rains?
No. This is no adequate rain protection. There is no front door. So if it rains, you should look for somewhere else to hide. 
Reviews
Customer Reviews
Awesome pop up tent
This tent is really great! Its large enough to fit all of us.. its lightweight and easy to carry for traveling! Its also great because we can open all the entrance and let the wond pass tru. And if you want a little privacy we can close the other side.. and also close the windows as well. And for the sand we can easily dust it off as well. After you enjoy the greatness of the tent, you can also fold it easily amd put it on the bag! I thought it was hard to fold but once you follow the instructions its a no brainer! Great product!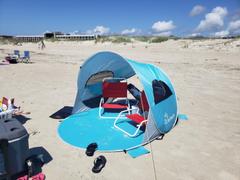 fun and easy to go to the beach now
love the tent. just throw it and it's set up! easy to go to the beach now not having to bring blankets and multiple umbrellas. I still bring one umbrella to shade the front but still watch the ocean. I love that it let's breeze thru to keep cool which my previous tent didn't have and was too hot. it's easy to fold and easy to clean sand off back at home because of how it just snaps up. hope it holds up but seems well designed. used it 4 times now and purchased another as a friend wanted one too!
Good buy
I truly love it , bought it for the beach, it fits 3 adults comfortably from the sun, not that easy to fold, need a few practice runs
Easy to setup/takedown and fun
We used a friend's and recently got our own. We love this design - easy to shake of sand/dirt, super quick to set up and a breeze to take down. It is very light, so you need weight inside to hold it down (or you can sandbag it or strap it). Great protection from the sun but with a nice open front so you don't sacrifice the view. Only word of warning is for dog paws... ours put a small slit in it with his nail.
Extremely sturdy!
We were so impressed by the quality of this tent!! Withstood a very very windy day on the beach with no problem!