WolfWise HighPeak R20 Pop up Privacy Tent
Product image 1
Product image 2
Product image 3
Product image 4
Product image 5
Product image 6
Product image 7
You deserve a pop up shower tent that you can trust. Wolfwise Popup Privacy Tent offers the space and functional features you need.
Popup Design with Easy Access
UV Protection & Water Repellant
Large Size with Good Ventilation
Waterproof Taffeta 190T Nylon Polyester Material
Convenient Interior Design
FAQ
1. 

Does it block light from outside?
Yes, the silver-coated surface reflects and absorbs sunlight to block up to 98% of the sun's harmful ultraviolet rays. The camping shower tent comes with a rain fly that will also keep the direct sun from shining at the top. The door and the window can zip shut too. So this will block all direct sun.
2. Is this fire retardant?
No, this is not fire retardant, but the pop up tent is made with high-quality, waterproof taffeta 191-D nylon polyester and flexible steel for durability.
3. Will it need to be anchored if indoors?
Depends on what you are going to use it for. It's very light and will stand on its own. If you are worried, you can also put some weights inside in the corners.
4. Does it have a floor to protect feet from the dirt while showering?
Yes, the bottom mat is attached to keep you away from the dirty ground and ensure the cleanliness. Water can also flow from the mesh corners when showering.
5. What are the interior dimensions of this toilet tent? Width and height?
It expands to the size of 47.24" x 47.24" x 78.74" in when set up. Much taller than any other tents in the market.
Reviews
Customer Reviews
Just what I was looking for
I love the ease of the straight zippered door. I tested it to see if shadows could be seen in full sun and happy to report that this tent offers complete privacy. High quality fabric. Plenty of room for my husband who is 6'3. No ducking while trying to shower. We are very happy with this purchase. Have used it several times now while camping, with no issues. Highly recommend.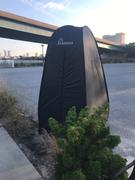 Great product
Great product! Use this on my pontoon boat for the portable toilet. Great quality and easy to deploy and fold up.
Easy setup and takedown
This was exactly what I was looking for! Ultra easy setup and take down. We used it for changing and portable toilet at our campsite but didn't use it fir outdoor shower yet. It has a liner that doesn't allow light to pass through easily and was breathable so we didn't smother in the heat. The top unzips so we used a fan light with a hook which attached right to the shower loop on the tent. I highly recommend this for those who want privacy and don't like extra things that take time to set up.
yep, yeah & YES! Pros & Cons
Got this for on location photoshoots. It's perfect. I've quick to unfold & fold. PROS Quick to unfold & fold Plenty of room to change in Taller than most similar items CONS (sort of) Took practice to fold back up quickly. But once I finally got it down it was fast
Awesome shower tent!
Awesome shower tent! Unfolded easy and I read the diagram directions that's attached to the carrying case to fold back up. Easy folding back into its case! The extra lining is awesome and vents at the bottom corners for drainage is great.