WolfWise HighPeak R20 Pop up Privacy Tent
Product image 1
Product image 2
Product image 3
Product image 4
Product image 5
Product image 6
Product image 7
You deserve a pop up shower tent that you can trust. Wolfwise Popup Privacy Tent offers the space and functional features you need.
Popup Design with Easy Access
UV Protection & Water Repellant
Large Size with Good Ventilation
Waterproof Taffeta 190T Nylon Polyester Material
Convenient Interior Design
How to fold it back?
All of WolfWise pop up shower tents are folded in the same way. Please click here to see the folding video.
FAQ
1. 

Does it block light from outside?
Yes, the silver-coated surface reflects and absorbs sunlight to block up to 98% of the sun's harmful ultraviolet rays. The camping shower tent comes with a rain fly that will also keep the direct sun from shining at the top. The door and the window can zip shut too. So this will block all direct sun.
2. Is this fire retardant?
No, this is not fire retardant, but the pop up tent is made with high-quality, waterproof taffeta 191-D nylon polyester and flexible steel for durability.
3. Will it need to be anchored if indoors?
Depends on what you are going to use it for. It's very light and will stand on its own. If you are worried, you can also put some weights inside in the corners.
4. Does it have a floor to protect feet from the dirt while showering?
Yes, the bottom mat is attached to keep you away from the dirty ground and ensure the cleanliness. Water can also flow from the mesh corners when showering.
5. What are the interior dimensions of this toilet tent? Width and height?
It expands to the size of 47.24" x 47.24" x 78.74" in when set up. Much taller than any other tents in the market.
Reviews
Customer Reviews
Just what I was looking for
I love the ease of the straight zippered door. I tested it to see if shadows could be seen in full sun and happy to report that this tent offers complete privacy. High quality fabric. Plenty of room for my husband who is 6'3. No ducking while trying to shower. We are very happy with this purchase. Have used it several times now while camping, with no issues. Highly recommend.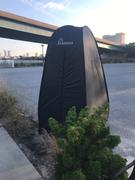 Pop up!
Super fun to use and way nicer than trying to tie myself into a knot to change my clothes!
Love this thing!
Overall, we LOVE this privacy tent, but word of warning.... make sure you can break it down and fold up before you use it in a real life situation the first time. I thought it would be easy enough to do without instruction, but it took two intelligent grown men and a video to do it the first time.
good changing tent for my family
loved it was able to put back easily
Good quality
Quality is good. I wish the floor was removable since I'd like to be able to use it for shower and not just porta potti and changing room. It's nice that there's no silhouette when changing or using the prota potti. I'll just have to modify it with some hook and latch straps and make my own removable floor. Folding it up takes a little practice. There's some tutorial videos on YT with some different techniques so you have to find something that works best for you.