WolfWise SunlitSky A10 Portable Beach Tent
Product image 1
Product image 2
Product image 3
Product image 4
Product image 5
Product image 6
Product image 7
If you're a beach person, consider introducing a beach canopy tent into your arsenal. This Wolfwise beach shelter will create a cool oasis for your friends to hide in when they've forgotten just how oppressively bright the sun can be.
UPF 50+ & Water Repellant
Sand Bags in 4 Corners
Natural Ventilation with Extendable Floor
Foldable & Lightweight Construction
FAQ
1. 

Is it a pop up tent?
No, it's not a pop-up tent. It has tent poles that you have to insert and stake down.
2. Does the flap close all the way?
No, the extendable flap doesn't close entirely since there is some space left for air circulation.
3. Is it large enough for 2 adults to sit in chairs comfortably inside the beach shade?
2 people of average height could sit in the tent in a beach chair.
4. Can it fit in the luggage or carry on?
The package size is 17.3 x 4.7 x 4.7 inch. It is easy to put in your luggage. You can take it to any beach destination or anywhere.
5. Is it okay to purchase additional tent poles for this tent?
If you want to buy additional tent roles, you should consider matching degree between the poles and tent size. If it's because you received our broken poles, you can contact us and we will give you a solution accordingly.
6. Can one person put it up alone?
Yes. But it will be easier if there is a person to assist you.
Reviews
Customer Reviews
Very easy to install and portable!
The beach canopy arrive nicely pack in a box and everything was included for set up. Installation was quite easy and simple. It is very spacious and portable. My friend who's is 6'3 fit perfectly inside with extra room too. It would be great to use once we go to the beach with less people since it can fit around 2-3 people inside the tent. There I also little pocket inside the canopy for storage! It is also so useful how they included a instruction for canopy installation on the label just incase if we don't remember how to or lost the manual. However, the portable bag for storage is a bit small for the whole tent supply. ( as shown in picture). Overall, this tent is very useful for beach days and it is super portable. I would recommend it since it's portable and does it job.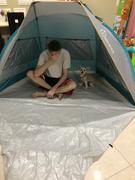 Light and portable shade!
I love this thing! We use it for the pool and the beach. It provides a lot of shade, just what's we wanted. It is super light weight!
Perfect!!
This tent is amazing! Very easy to assemble, it takes 5 minutes or less. I was impressed by how light weight it is and how easy it is to carry around. The sand bags make it secure and it stays in place so you don't have to worry about the wind. There is plenty of space inside for two people to sit or lay comfortably. It could fit two small chairs inside but the floor is comfortable and it doesn't get warmed by the sand. The ventilation is very good thanks to the windows at each side and it definitely protects you from the sun. The price is very good too, there are similar options that are more expensive. I love it!!
Perfect for a beach day to us!!
I went to the beach today with my little girl and husband and we put it together in less than 5 minutes!! Looks great and very lightweight, the pockets inside are a very useful addition!! We enjoyed it very much!